Unfortunately, it wasn't enough!
Unfortunately, Brice MABYAMA had to go into second division with OFTA Kribi FC.
Newcomers have a hard time. That's not a new wisdom, it's a fact of the football business.
Three victories in 22 matches are not enough. 10 draws are too many to survive.
The midfield, to the extent that it occasionally existed, could neither build up forward pressure nor effectively support the defence, although the defense was still the best part of the team.
OFTA's attack was difficult for me to judge in terms of quality, because, as I said, not only was the midfield missing, but also because there was no sign of a constructive play structure… and that starts in defence. High – far was the motto. This is not "football"!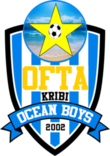 The 10 draws and non-existent attack dealt the deathblow to the club.
The team was not balanced, there were too many players who were too young, no players who wanted to take responsibility, take the lead.
Most of the players definitely lacked the professional attitude.
The players' lack of attitude towards football and the club was blatantly evident in the last match against Coton Sport: an 1:9 has nothing to do with professionalism, it's not amateurish, it's pure refusal to work. I feel sorry for Brice MABYAMA and two or three other players who had to surround themselves with anti-footballers. Who had to surround themselves with players for whom the ball was not a friend but an enemy……but the selection of the players was ultimately made by the club together with its officials.
The "OCEAN BOYS" went to swim – I wish them that next season in the MTN Elite Two they surf on a wave of success into the MTN Elite One League back!